February 11 / 2009
It's already February and I'm still wishing everybody a Happy New Year!  Dang!  It's even past Chinese New Year now.  What can I say…my head hasn't been buried in the sand; it's been going at 200 mph brewing things up. Here's the scoop! 
Music:  My EP is done, ready and being shopped.  It's been sent to various radio stations, promoters, bookers, labels & festivals.  I've been getting good feedback.  To my surprise, I've gotten airplay already!  I'm even booked for a couple of radio interviews! Am I happy or am I HAPPY!!!  This even before an official launch!  Ohhhh but, I do have a gig coming up at Grumpy's Bar (1242 Bishop, Montreal) on February 23rd at 9:30 pm.  I will see you there, right?! It's part of their Chick Pickin' Monday series, hosted none other than the goddess, Cecile Doo-Kingue.  I'll be 'leaking' out a couple of tunes from the EP – lite versions of them though 'cause the set up is more unplugged or semi-unplugged.  I'm saving myself for the full band extravaganza that will be at the launch.  Hang in there…it's coming, it's coming!!!
Acting:  Moving on…I continue to audition and continue to cross my fingers and hope to get the role I auditioned for.  Such is life. Rehearsals are about to start for Death and the Maiden!  We're putting that up in May. This time, I'm acting in my own production!  Lines…memorizing lines…how much fun is that?  I think it's the only part of the whole acting process that I am not too fond of.  Also, I'm already prepping for the next production in Fall. OH! OH! OH!  Something neat really happened to the poster from our production of Almost Blue. Someone up there in the Quebec government deemed it good enough to be part of the National Archives!!!  What a surprise that was when I received the official letter from the government! Here's the poster: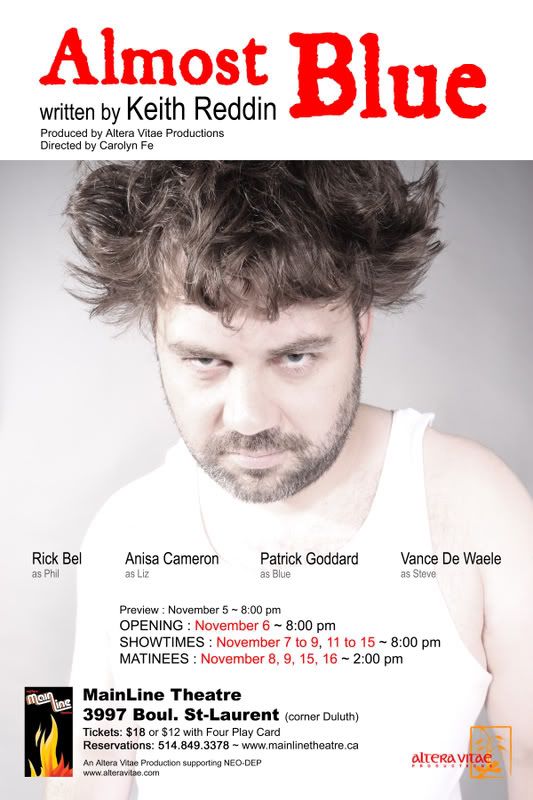 So that's it for now, gotta go an memorise some lines.  See you soon!