These are the musicians who collaborate with Carolyn Fe. She calls them her "Stage Hubbies". They are veterans of the stage from different cultural, performance and musical backgrounds, each with their own influences; they meld to bring out the Blues in different shades evolving the genre and bringing the sound to wherever they want.
Carolyn Fe
Singer, lyricist, manager and booker. Carolyn has a foot in both artistic and business worlds. She's a Type-A personality, always thinking of what is next, opening doors and if such doors don't open, creating opportunities so the band can keep moving forward. Although she's up front on stage, she prefers the one-on-one contact when she's off stage. Believe it or not, she is shy but does what has to be done to make things happen. She bows with deep respect for the classics of the Blues but writes and performs to bring the musical genre to it's next evolution and according to the critics, she certainly does! Although she has been managing the band on her own since the death of her Agent/Manager in 2013, she is open to working with like-minded agents and/or managers.
Oisin Little
Bass, back vocals, songwriter and envelope pusher. Oisin seemingly the quiet one of the band but underneath, there's a wealth of vocabulary and a way with words that goes beyond the norm. He is a walking encyclopedia of the marginal and not-so-marginal who's who and what's what of musical history. Be careful, his apparent reservedness pushes the band's envelope when the ache to return to comfort zones rears its ugly head. Oisin has been with Carolyn Fe from Original Sin to Bad Taboo and now, Sugat Ko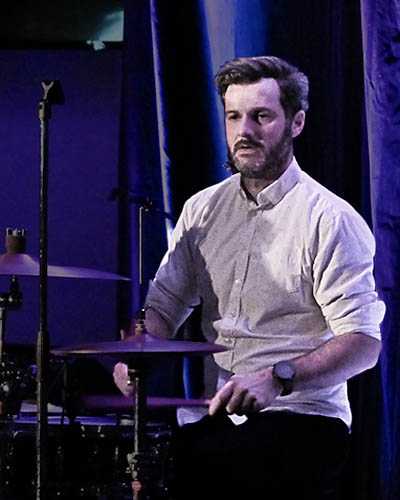 Gabriel Tremblay
Drummer, Percussions. From an early age, Gabriel has perfected his art through several musical styles with many bands and artists. Throughout his 25-year career, he has run the gamut of musical genres from jazz, pop, punk, post-rock and then back home to the blues. He has toured La Belle Province (Quebec) from east to west as well as the United States' east coast. Gabriel has been teaching music in primary schools for more than 15 years; a perfect musician's day job as he stays connected to his passion while inspiring future generations to become creative individuals. Too serious a profile? Not really because when Gabriel hits the finale with a grunt, you know there's a lot of giggles that happen backstage.
Jean-François Hamel
Guitar. JF started off in classical guitar, earned his "Prix du Conservatoire de musique de Québec". He refined his pop & jazz experience throughout his 25 years of performance traveling all over Quebec and the Asian continent. Jean-Francois is a dedicated teacher and is frequently invited to sit on the panel of judges in contests such as the "Montreal Guitar Grand Prix" (for which he was the Jury President from 2007 to 2012), "Concours de musique Clermont-Pépin" and the Festival concours de musique de Sherbrooke. All this boils down to JF playing a mean slide guitar that gives a hot, sticky and swampy sound to the repertoire. You can hear his licks on the album, Sugat Ko.
Chris Tauchner
Keyboards. Chris has been on the scene for over twenty years, playing jazz, blues, funk, pop and classical music as a pianist, composer and arranger. He has performed at the Montreal International Jazz Festival numerous times, toured North America and the West Indies; appeared on radio, television, and recorded four original albums that continue to receive international airplay. Chris has collaborated with artists such as Oliver Jones, Ranee Lee, Jeri Brown, Dave Turner, Montreal Jubilation Gospel Choir, Martin Goyette, K'naan, Digable Planets, Lee Fields and many others. When Chris isn't tickling the ivories, he likes to dabble in Microbiology.
Angie Arsenault
Singer, songwriter, producer, and vocal coach. Angie has released 3 solo albums, a fourth album with her musical family, a short film, written music for other artists and projects including a web-series, and is known for her sonic melancholy. You can hear Angie's fingers tickling the ivory and programming arrangements on the song "Prayer" from the album Sugat Ko. Angie shares a favourite pastime with Carolyn Fe, jay walking but only when they are together.
Sami Joensuu
Singer-songwriter, multi-instrumentalist and artist from Finland who grew up with a suitcase in his hand hitting the road, Sami Joensuu draws on soul with hints of roots and country. Carolyn Fe was intrigued by his sound when he was half of "Joensuu Riihimäki", a blues-based group. When that partnership ended, Sami and Carolyn decided to collaborate on a song. Isn't technology great? Music creation online between Finland and Canada. The album "Tides" is now available online where you can hear the song they collaborated on, "You Name It". Get your copy here > Amazon

Shun Kikuta
Shun Kikuta was the guitarist for Queen of the Blues, Ms. Koko Taylor and dubbed "The Asian BB King" by BB King himself. He left Chicago and now resides in Asia. Carolyn Fe connected Shun after an online interview that ended up with a collaboration on the title track of "Bad Taboo" (released 2013). Since then more song collaborations have happened. Who knows what the future brings? This connection will certainly continue to grow as time goes on.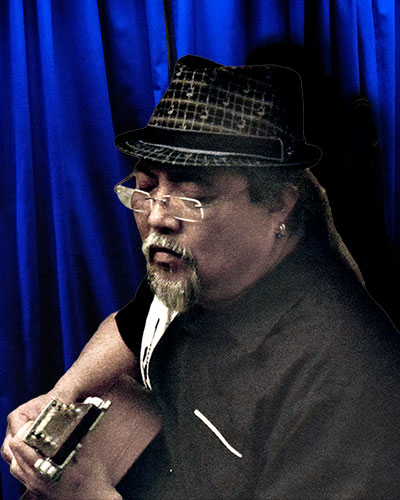 Chito Salazar
Guitar, Acoustic Guitar. Chito played lead guitar in numerous blues, rock, jazz, country and Celtic bands since 1994. He has led 3 bands of his own: Spillback, MoSayk and fonograph (with a self-produced 2013 CD, "I'm into fonography"). Chito joins Carolyn Fe's Acoustic format. There is a word in Tagalog (Filipino language) that has no English translation but when you see and hear Chito play, you will understand the meaning of the word, "Gigil".
Mike Leipe
Bass. Mike is still scratching his head trying to figure how, in 40 short years, he's gone from playing Kiss and Nazareth covers in his hometown of Smithers, B.C., to playing some of his favourite Blues tunes with one of his favourite singers. Somewhere along the way he played in The Maple Street Shed Band, The Science '87 Blues Band, docweissband, and Rothwell & Moffat; and is currently enjoying putting together an R&B/Soul/Blues act with Chito. Mike joins in on Carolyn Fe's Acoustic format. The pocket is everything.
Ivan Garzon
Guitar. Ivan honed his skills at Madrid's Escuela de Música Creativa, later on developing his craft in various jazz styles; Gypsy jazz, contemporary and traditional jazz. He played guitar on the 4th album, Sugat Ko.
Brandon Goodwin
Drummer and Back Vocals. Brandon is a jazzman at heart keeping the sure and steady no matter what musical genre he's playing. He played drums and co-mixed the 4th album, Sugat Ko; as well, he played all percussions and drums on "Jerusalem's Thorns".
Tim Alleyne, Sr.
Keyboards and back vocals. Tim has the knack of morphing rough-draft riffs into harmonized songs. Laid back and easy going, chatting with Tim takes you to another world, literally. He played keyboards on Original Sin, Bad Taboo and a few songs on 100%.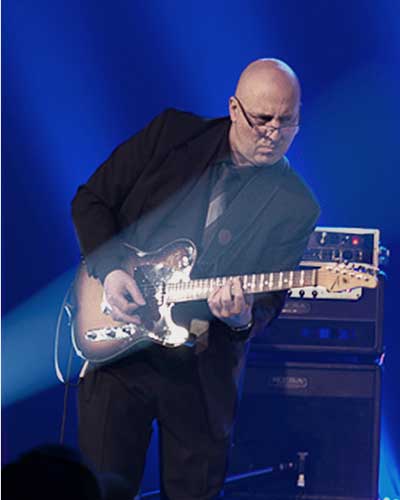 Rami Cassab
Guitar. Rami's analytical mind and experience with various musical styles enabled him to add that extra edge or soften the delivery of a song. He played guitar on the 3rd album, Bad Taboo.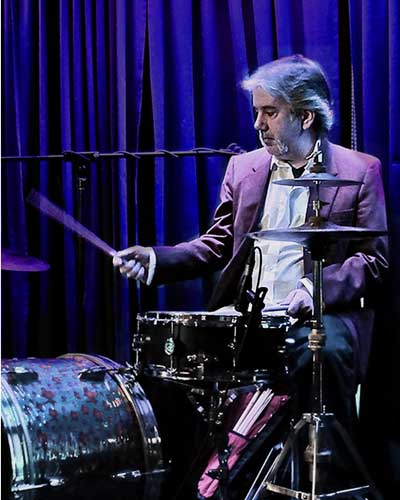 Dan Legault
Drummer, sound engineer, back vocals, rhythm guitar, cigar box guitar, sometimes bassist and riff writer. He engineered 3 albums for Carolyn Fe (100%, Original Sin and Bad Taboo).